From Kayaking to Disc Golf: Wrightsville Beach Offers More than Just Swimming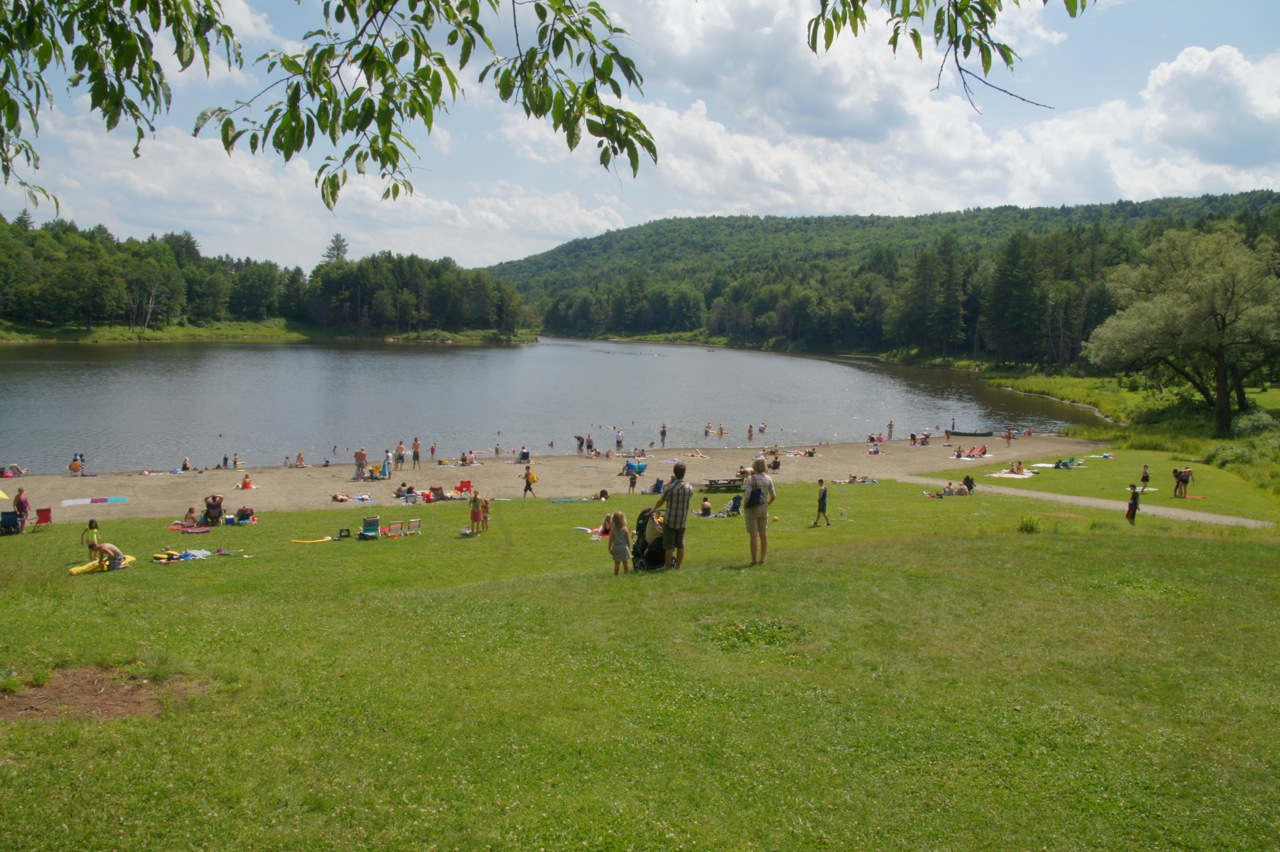 Wrightsville Recreation District is known for its easy access and sandy beach, but it's not just about swimming. Located in Middlesex just five miles from downtown Montpelier, the reservoir and recreation area offers a breadth of outdoor activities from kayaking to disc golf, bird watching, picnicking, or just lying on the beach. Last year, 17,000 people used the park during its main season.
Wrightsville's 88 acres includes the beach; picnic areas; 18-hole disc golf course (which draws disc golf tourists from the Northeast, other states, and Canada); a recreation field; and five miles of scenic trails for walking, hiking, running, and mountain biking. Offerings also include yoga classes and workshops such as mountain biking, how to fish, CPR certification, and more.
Visitors can rent a variety of boats: single and tandem kayaks, stand-up paddle boards (SUP), canoes, and a paddleboat. There are also land-based games, including horseshoes, disc golf, and volleyball.
The recreation area is a municipal district created in 1983 by the Vermont Legislature. It is managed by the towns bordering the reservoir: Middlesex, Montpelier, East Montpelier, and Worcester. Each town pays a per capita fee, currently $2.50 per person (with a cap at $4), to manage the park. User fees, sponsorships, and funding from the Washington Electric Co-op support beach operations as well. Ten seasonal employees, along with year-round manager Colin O'Neil run the busy park.
Sean Beckett, program director for the North Branch Nature Center notes the park is a fantastic place for birds and birdwatching, especially on trails north of the beach. The shrubs are low, meaning you get to see birds at eye level. Plus, the park has lots of different habitats, meaning a variety of different birds. You may even get to sight merlins nesting over the disc golf course. Visitors find plenty of activity on the water, such as beavers going about their business; lucky for paddlers they aren't bothered by boats floating by. While on the water, keep your eyes peeled for herons, kingfishers, loons, osprey, and even bald eagles as they hunt over the reservoir. This month, you'll find plenty of new baby birds too: geese, mallards, mergansers, and other duck species throughout the park.
The level of the water fluctuates as a result of dam operations, and the beach floods significantly about every two years according to O'Neil. High water levels have covered all the beach's buildings so park staff chain down furniture and boats to keep them from floating away.
Montpelier residents Jake Brown and his wife Milly Archer have enjoyed Wrightsville Reservoir for about 30 years. When they had a young child, they would take him to the beach for swimming regularly. Once he'd grown up and was on his own, they'd take their canoe and explore the reservoir. Today they are enjoying a lot of open-water swimming at Wrightsville. "It's really wonderful for all phases of life — we look forward to getting our season pass again this year," Brown said. "The beach is always clean, the operation is well-managed; it's a gem just a few miles from downtown."
O'Neil said fees are discounted in 2023, including the following:
District residents get 10% off season passes
District residents get 25% off boat rentals
Season pass holders get 25% off boat rentals and 10% off disc purchases
District residents with a season pass get 50% off boat rentals
Note: dogs are not allowed on the beach from Memorial Day weekend through Labor Day, with the exception of documented service dogs.
By Carolyn Grodinsky, the events and marketing coordinator for Montpelier Alive.