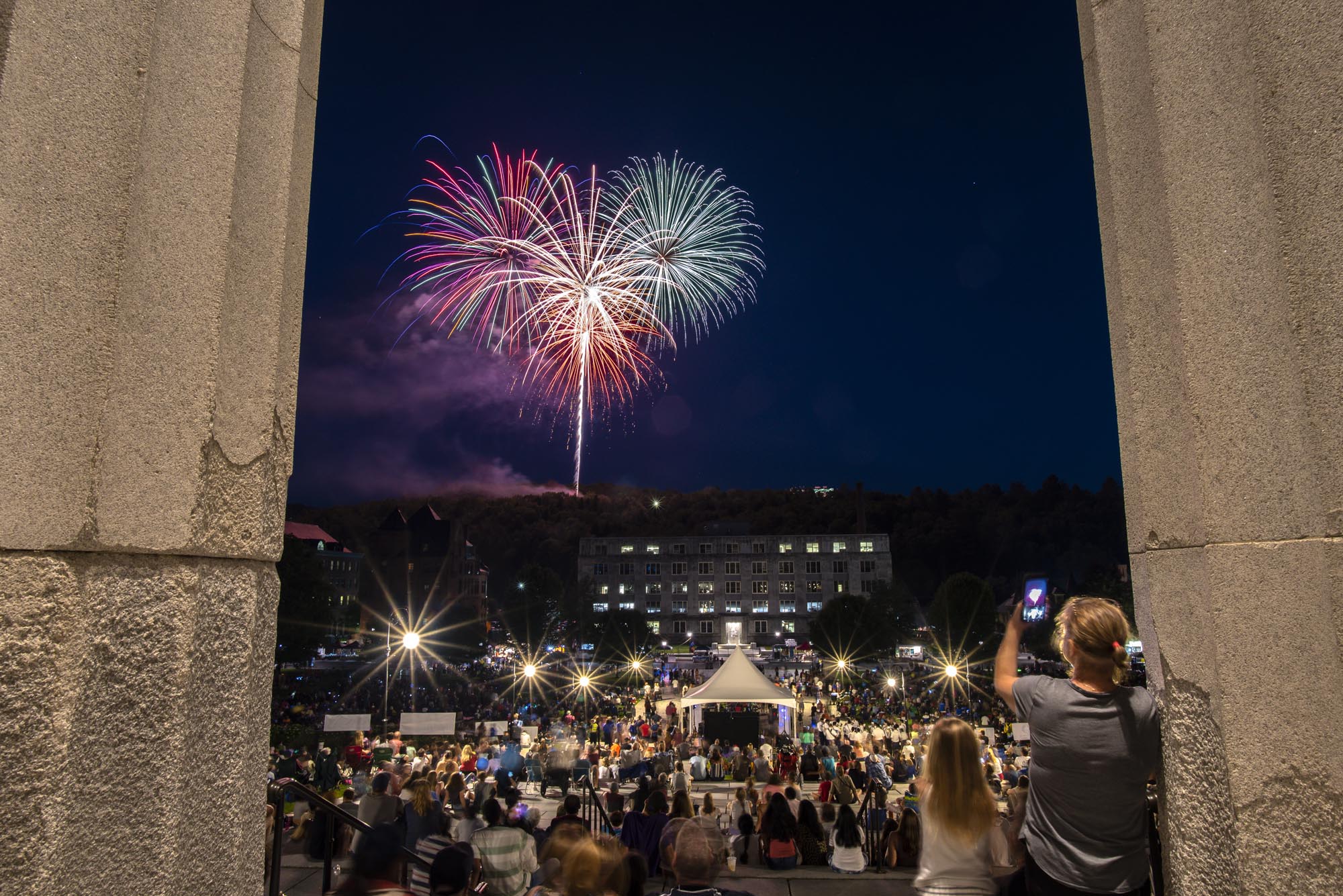 Festivals and Events
The Capital City loves a celebration!
Montpelier is a vibrant community with a very full festival and event calendar. Below is a general list of events hosted in Montpelier annually so you can get an idea of what we are like. For more event listings, visit the community calendar and individual event pages on this site.
Montpelier Alive is fortunate to be generously underwritten by our Downtown Champions National Life and VSECU. Due to the support of local companies like these, and others, almost all Montpelier Alive events are free of charge, and we are always adding events to the calendar.
We have many volunteer opportunities assisting our staff with event planning and production. If you are interested in volunteering, email us at [email protected]
See you downtown!
Art Walk, supported by Northfield Savings Bank
First Fridays in February, April, June, August, October, December

Enjoy the local art! Upwards of 20 art openings on one night in Montpelier! Start at any venue and stop by as many participating venues as you like. Many will have the artist in attendance and refreshments for art viewers. Guidebooks will be available at participating business.

Ice on Fire
Early February

This annual festival is a celebration of winter. Bring family and friends for an afternoon of sledding, hot drinks and songs. Pop-up storytelling, puppets, fun with snow (weather permitting) and other events take place throughout the day. The event closes with a traditional Revels poem and a Christmas tree bonfire. Held at Hubbard Park on a Sunday afternoon from 2-5 pm in early February.

PoemCity
April

PoemCity is presented by the Kellogg-Hubbard Library in celebration of National Poetry Month. For the month of April, poems are displayed in the windows of downtown Montpelier businesses to create a walkable anthology of poetry by Vermonters. A full schedule of poetry programming is also offered including readings, workshops, and discussions. Visit www.kellogghubbard.org/poemcity for more information.

All Species Day
1st Saturday in May

Come Dressed as your Favorite Species and join in Celebrating our Interdependence with All of Life with a parade and Birth of Spring Pageant.

The month of May is host to a full calendar of fun, family friendly events in the Capital City.

Green Up Day
May 7, 2022

Our beautiful Green Mountain state is made greener on this day as thousands of volunteers cooperate to get rid of litter on banks, highways, streets and parks in a massive spring clean up. Join the effort!

July 3rd Independence Day Celebration
July 3, 2022

Spread your blanket on the State House lawn, or bring your chairs, and enjoy a ringside seat for the Independence Day parade, live music and dance, and spectacular fireworks. July 3 is the best day of the year in Montpelier when everyone comes together for family activities and picnics in the heart of the Capital City. More than 35 food and craft vendors offer everything from traditional fried dough to fresh falafel. There's something for everybody—a national holiday celebrated in a small town way.

Parkapalooza
Thursday Evenings, July-August

Each summer, Hubbard Park hosts a free summer concert series known as Parkapalooza. These family-friendly, open-air concerts are held at the Tuning Forks Stage, next to the Old Shelter, and feature live music from talented local and regional artists. With plenty of space for young legs to roam, spread out a picnic blanket and play outside, these events are the perfect end to a summer day.

Do Good Fest
July 16, 2022

A free summer concert benefitting cancer patients | Music, food, games, fireworks, and more.

Hunger Mountain Co-op Brown Bag Summer Concert Series
Thursdays at noon, August 4-September 8

FREE music at lunch time! Summer says eat outdoors in Montpelier. Why not grab a lunch from one of the many take-out options in downtown and join us for a diverse line-up of local and regional musicians.

Point to Point
August 6, 2022

Support a great cause and have a good time at the 21st annual Point to Point, powered by VSECU! Join us at the State House Lawn in Montpelier on Saturday, August 6, as the whole community comes together to support the Vermont Foodbank. Sign up today to ride or run and help us raise $150,000 to help fight hunger.

Spice on Snow - Summer Spice Gathering
August 27, 2022

The Spice on Snow music festival is a multi-day celebration of roots and contemporary folk music usually in mid-winter. The festival will be celebrated in the summer this year as well, featuring outstanding Cajun and Old Time musicians from Louisiana and Southern Appalachia, together with premier touring folk musicians and regional performers. There are concerts, dances, workshops, family events, jam sessions and free performances in Montpelier, Vermont.

Taste of Montpelier Food Festival, presented by Hunger Mountain Co-op
September 10, 2022

The Taste of Montpelier will bring the best of Vermont's culinary scene to the heart of its capital city. The Taste of Montpelier promises events that appeal to foodies and families alike, with fun street performances paired with world-class food.

Enchanted Forest
October 14 & 15, 2022


The Enchanted Forest is Montpelier's night time community celebration of Autumn. Located in historic Hubbard Park, guides bring groups of people deep into the park where they are led by guides through candle-lit paths to stages of storytelling, music, fire, and enchantment.

Moonlight Magic, powered by VSECU
October 21, 2022

Montpelier residents of all ages come out to enjoy Moonlight Magic. It feels like a festival as stores stay open late with great deals and the mood is enlivened by street performers all over town.
---
Planning an Event Downtown?
Great choice! Downtown Montpelier is a wonderful place to hold your event, and we can help make your event a success. We offer technical support, funding opportunities, and other resources. Please consult our Downtown Events Guide for more information.