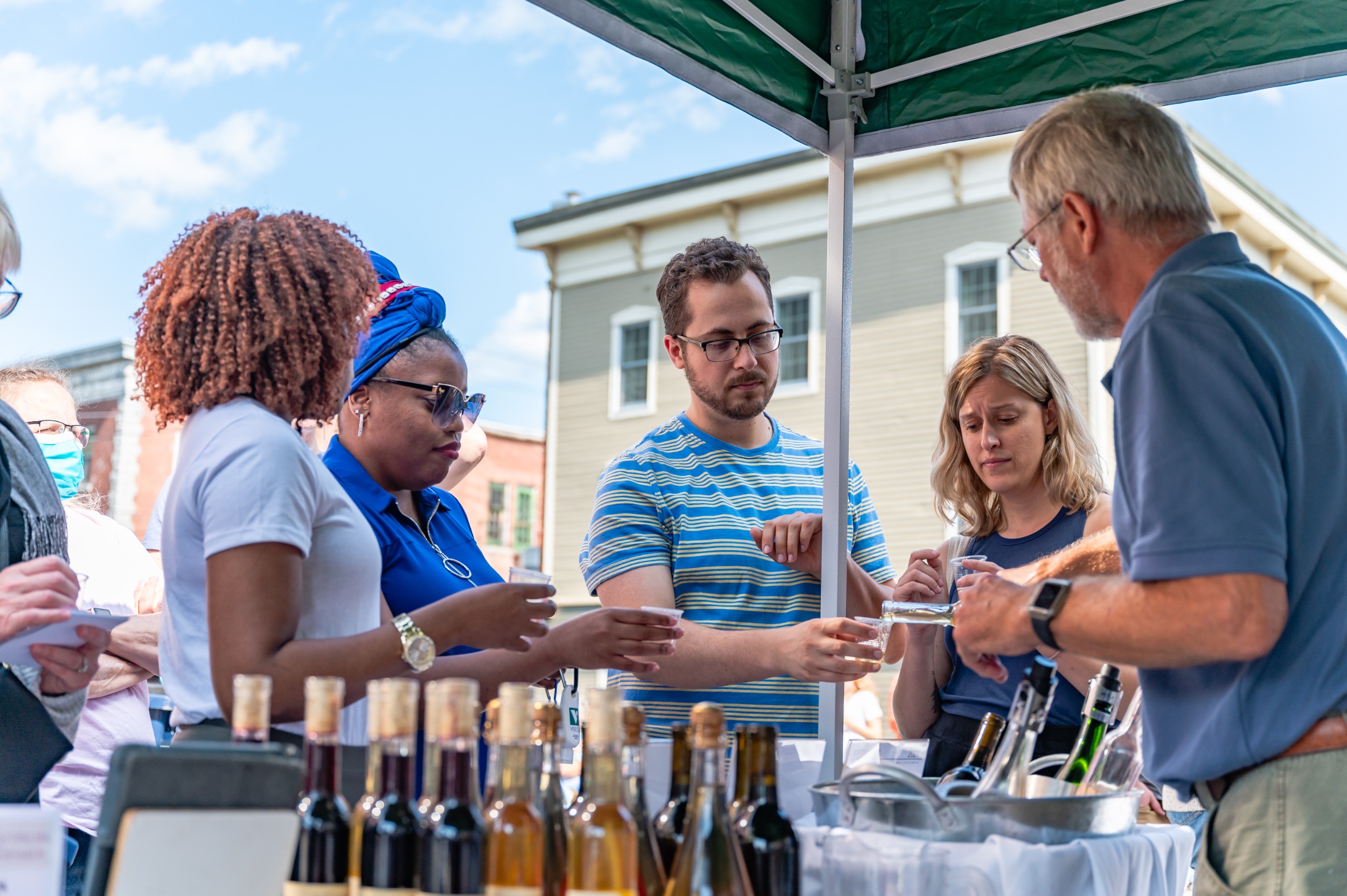 Food and Beverage Artisans, Restaurants, and Food Trucks
Anderbell Acres is an organic farm in East Montpelier with pick your own berries and flowers. They will have flower crowns , fresh made flower bouquets and fresh cider from Champlain Orchards.
Caledonia Spirits, makers of Barr Hill Gin, produces land-crafted spirits right in Montpelier that celebrate raw honey and craft distilling, and unite agriculture and cocktail culture. Enjoy samples of their craft spirits, including Barr Hill Gin, Tom Cat Gin, Barr Hill Vodka, and Maple Vodka, along with house-made ginger syrup and tonic syrup and raw honey. (plus they will be doing demos on making syrup)
Daily Chocolate is a small batch chocolate shop, located in Vermont's oldest and smallest city, Vergennes. Daily Chocolate is committed to keeping their ideas fresh, their flavors inventive, and their look beautiful - all while using quality ingredients that are ethically and sustainably sourced.
Dougy Fresh Gyros will be selling a variety of gyros with lots of fresh veggie toppings and sauces to choose from.
Enna is an international deli offering lunch, catering & take home dinners. Enna will be serving a small plate with 36 hour rib, coleslaw & cornbread.
Green Mountain Peanut Butter -Best peanut butter in the world, we will be sampling all our flavors and styles of peanut butter with local apples.

Montpelier High School and Middle School Students -

High School Students will be selling their homemade "Solon Sauce", made from hot peppers, tomatoes, garlic and onions grown on the school campus. They will also sell "High School Honey" from the MHS bee hives. Students in the summer program "Food, Farm, and Society" manage the gardens, greenhouses and bees during the summer. Come fall, students enrolled in the "Human Population and Consumption" course make the hot sauce and extract the honey.

Main Street Middle School's MSMS_Sustain program, featuring project and community based learning, will be selling maple syrup produced right here in Montpelier.

Montpelier Vinyards - Montpelier Vineyards is a certified organic vineyard making natural, organic, unfiltered wines without sulfites that we are proud to call Vermont-made

North Branch Vineyards - Family owned and operated, North Branch Vineyards is a small winery, which lies beside the North Branch River, a branch on the Winooski River in Montpelier's picturesque valley.
Pulp Kitchen Juice Inc. LLC - A Vermont based company which prides themselves in using non-GMO fruits and vegetables to produce the best tasting, best for you juice.
Seva - Feed the People - Asian fusion, a fundraiser for the Montpelier Food Pantry
Small Oven Pastries offers French macarons, pate de fruit, meringues -- tiny desserts!
Taco Truck All-stars: tacos and burritos, need we say more!

Tamales de Catalina - Diego Soria is a 17-year-old Mexican, born in Flagstaff, Arizona and currently a student at Montpelier High School. His tamale demo (at 3 pm) and food sales explore his deep interest in entrepreneurship in selling his Great-Great grandmother's tamales that have been passed down for more than 60+ years in his family! He's served over 20 families and looks forward to giving Taste the wonderful experience that his school community has been able to have.

Taste of Desi is a family–owned business selling homemade South Indian specialties including dosa, dumplings, and mango lassi. Ingredients are organic and locally sourced.
Three Penny Taproom Beer Garden on Langdon Street, open after 5 pm as well! (cash only)
Vermont Creamery is a butter and cheese company based in Websterville. They plan to sample their artisan cheeses, goat cheese, and other products.
Vermont's Farmhouse Jerky Co. offers hand-cut, Chef-created Jerkys, all-natural with no artificial anything. We sell 13 types of all natural beef jerky, plus maple bacon jerky, trail mix with beef jerky, and more.
Waffley Good - Homemade Waffle cones with delicious ice cream!
YUM = Great Food! Great Fun! Serving Cabot grilled cheese & Mac and Cheese, plus snow cones with our self-serve flavor station. Create your own icy masterpiece.